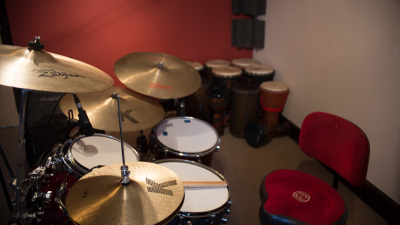 Roebuck Drums - Video Shoot
This weekend I achieved another personal first; I shot and co-edited HD video for a client of mine Roebuck Drums.  The aim was to develop some "challenge" videos for Paul's students and deploy them to his website in a private area.
Starting at 9am, I set up lighting and equipment and we ran some test shots. We shot video for about five hours and gathered over two hours of usable footage, which we then pared down into two short videos totalling around 10minutes.
The editiing process involved a number of stages.  The video was shot in 720p on my Canon 6D, dropping from 1080p allowed me to film at double the framerate (50fps).  This was really valuable since motion blur was going to be quite problematic.  Paul had mic'ed up the drum kit and was recording a separate, balanced audio track, which we later mixed into the video.
Once the audio mix was complete, we took the resulting video into a very simple video production suite.  We selected the best clips to match the storyboard and crossfaded them.
The entire process for two professional looking video shorts took about 7 hours.  I learnt a lot from the session about preparation and handling video files, and will be looking to use the information gathered to improve my performance and reduce the overall time of production on future projects.
So thank you Paul for the opportunity to film your video, and for volunteering to be my guinea pig!
Please note: As the aforementioned videos are intended for a private audience, I am unable to share them here.